Windowless Aircraft – Introduction, Dubai Virtual Windows and More
Digital Tech Spot, 2 years ago
0
4 min

read
263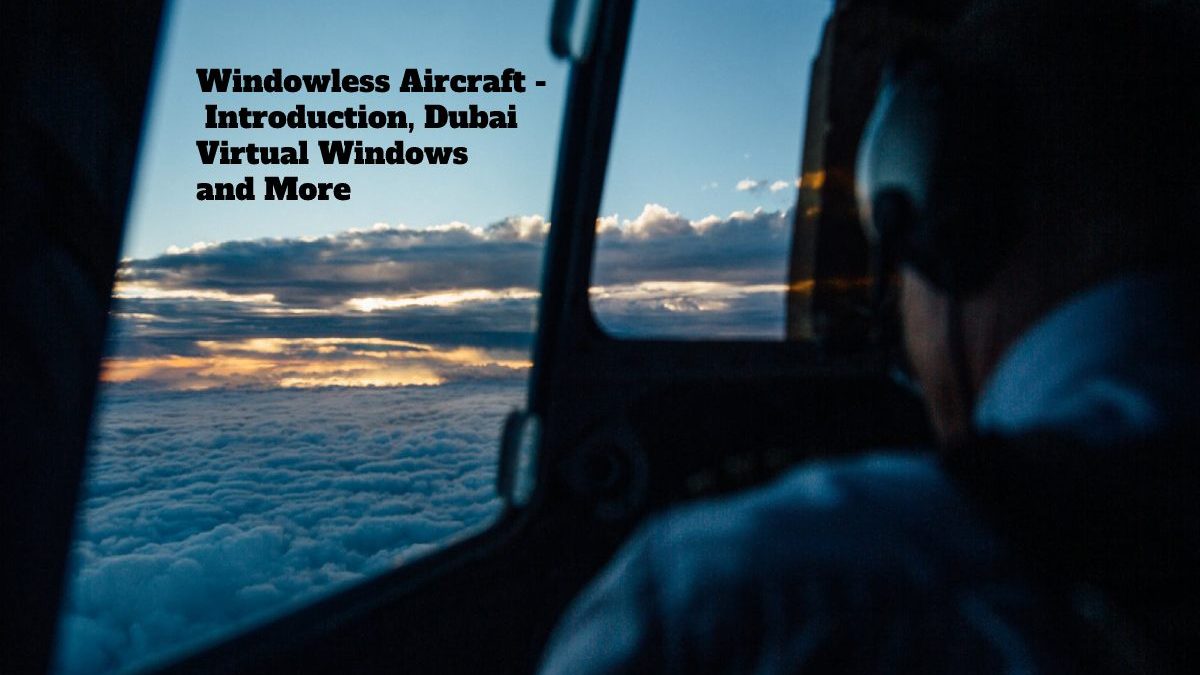 Introduction
Windowless Aircraft. Is that true? When commercial air travel began to spread in the 1930s, one of the biggest attractions of using airlines was the opportunity to see the terrain from an entirely new perspective from above. "Seeing rivers, deserts, farms. And the city's prospects was unlimited entertainment," daniel rust wrote in flying across America. A book on the history of flights in 2012.
To this day, some of us still meditate on the world with astonishment from those tiny windows. However, a 2014 quartz news foundation study found that half of Americans prefer to sit by windows in aeroplanes and that those who travel more than once a year are evenly divided.
That's why it's probably not unusual for aircraft designers to think about putting on video screens instead of passenger windows. In 2014, for example, the British centre for technology and innovation unveiled a windowless aircraft design. Covering the interior of the cockpit with high-quality. And also, flexible video displays will provide lighting and entertainment and a more comprehensive view of the exterior.
Dubai Virtual Windows
Last April, Emirates launched Boeing 777s with private suites (rooms) with virtual windows to view outside from the middle of the aircraft.
"The virtual windows of the first-class suites in the middle of the plane are completely closed with floor-to-ceiling doors, and passengers will not be able to see the windows on the sides of the aircraft," says emirates public relations officer Jerome Demir.
These virtual windows transmit the scene outside the aircraft with real-time camera technology that instantly transmits what is happening outside. Putting the cameras in strategic places to provide passengers with a real-time view from outside the plane.
And the scene depends on which side the entrance to the wing is located in the plane, right or left, which will appear at the central branches. High-quality cameras and a broad focus convey a comprehensive view of the outside of the aircraft. Providing virtual windows with a clear. The realistic perspective of what is happening outside the plane. Yet, passengers commented on their personal experience that they prefer to look from genuine windows."
Emirates virtual windows have received an excellent rating from The Points Guy's travel site.
In a BBC article, emirates president Tim Clark commented on the possibility of producing windowless aircraft. Contrary to DeMar's statement: "There are no current plans for a windowless aircraft."
The aircraft manufacturer plans to become windowless on a limited scale, with Boston-based private company spike aerospace developing the spike s-512. A supersonic business plane with a capacity of 18 passengers, with the latest technology. Will shorten travel time. Without excessive fuel consumption, without high sound noise, and no passenger windows.
Features of Windowless Aircraft
Removing traditional acrylic glass windows from the aircraft has other advantages, as body insulation reduces engine noise. Enhances aircraft protection and makes it safer, says katshuria, adding. "Wherever there is a gap, there is a structural weakness. And also, by removing windows, it will reduce weaknesses."
(aircraft windows are designed to be durable enough to withstand aviation pressures. As detailed in the 2003 faa bulletin.)
In addition to providing a more comprehensive vision. The system will enable passengers to choose other content. For example, it will take advantage of geolocation. And view augmented reality data on the aircraft's features. "We have partners working on-screen content," says katshuria.
Suppose they're not interested in the view. In that case, passengers will also be able to use screens for other purposes, Says Katshuria: "You can watch videos, put a movie if you want. Watch a PowerPoint presentation. Or turn off the lights."
Katshuria says spike aerospace still has several more years of engineering to complete its onboard vision. And also, the aircraft is therefore undergoing testing and certification. However, the first conventional windowless aircraft will be delivered to passengers in 2025.
Only corporate executives. Therefore, people rich enough to buy a private jet will initially enjoy the windowless flight experience at spike aerospace. Still, katshuria expects innovative technology to find its way into public aircraft as well eventually.
Helpful Sources: fortnite con vbuckscard
Related posts